IT'S A BOY!!!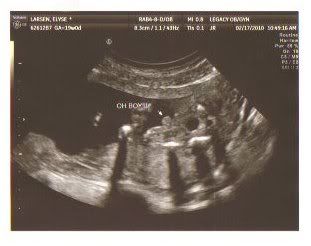 I can't believe that I am going to have another
little guy
running around the house! From the beginning I thought it would be a boy only because that's all the Larsen's know how to have. But when we saw his little man parts I couldn't help but be
surprised!
I always wanted a little girl, and a small (very small) part of me thought this might be my chance, but I am so happy that it is a little boy. Tatum will have a little
buddy
now and how convenient will it be now that I have everything I need!! I just have a few odds and ends to buy and a whole lot of work set ahead of us to prepare the nursery and pick a name! I was kind of hoping it would be a girl so that we wouldn't have to think up a boy name...if it were up to Tatum he would be named
T-Rex
after his favorite show Dinosaur Train.
Here are a few other shots, my favorite one is where he is showing off his muscles...check out those
guns!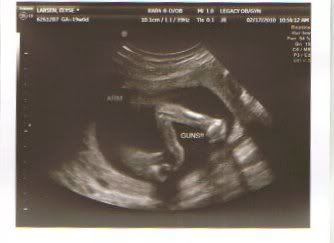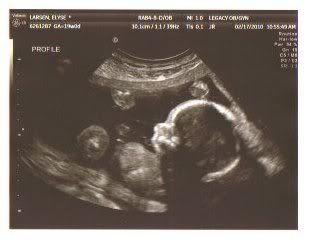 The whole time during the ultrasound the Doctor kept telling us how
beautiful
our baby was and even though its just an ultrasound I have to agree with her. It is so beautiful to see your healthy baby kicking inside of you...what a
blessing!!