Well I am down to only 10 weeks left before baby T-Rex joins our family. I can't believe how fast this pregnancy has gone by! It is still hard for me to believe that in 10 short weeks we are going to have another sweet baby boy around this house.
Everything with this pregnancy has gone so perfectly that sometimes I forget that there really is a baby in there. The only "hiccup" so far happened at my 20 week checkup. I found out that my Dr. of 4 years was leaving me and transferring to a Salt Lake practice in early June. I am due in July, so naturally I freaked out! They had scheduled a replacement Dr. to come fill her spot in March and I was told that I could choose to start seeing the new Dr. now or wait until June to switch. At my 28 week check I decided to go ahead and meet the new Dr. to get to know her better. Before I even met the Dr. her nurse came in to measure me and told me that I measured 25 weeks. She then brought the Dr. in to double check. She got the same measurement and decided that since I'm a new patient that she would like to do an ultrasound to make sure the baby is growing correctly. They had to schedule it for a week later and let me tell you that whole week I was a total mess! I thought of every possible outcome and of course freaked myself out. I went in for the ultrasound and found out that the baby was perfect. I was 28 weeks and 2 days along and the baby measured exactly to the day 28 weeks and 2 days! That was such a relief. She said that the baby was folded in half with his legs over his head and that could be why I measured so small. So here is the most recent picture of our little man.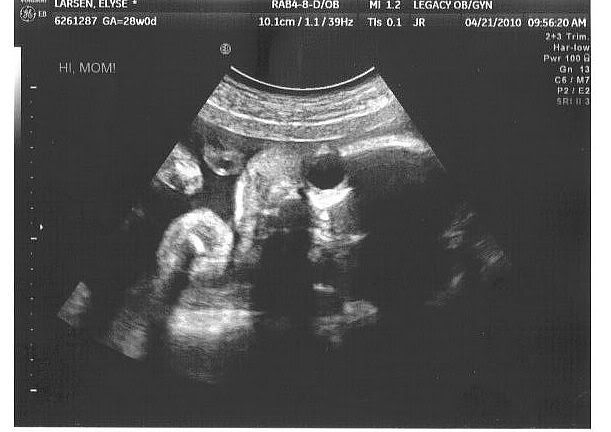 I was shocked when I saw this picture because you can so perfectly see his little face. Its like he is looking right at me and saying hi...so stinkin cute!
As far as Tatum goes, I think he totally understands what is happening. Everyday he asks me how my baby is and wants to feel him move. He always tells me how much he loves the baby. Its so sweet it just melts my heart. I know he will be a great big brother!
I have been in full nesting mode lately realizing that 10 weeks really isn't that long, especially when we have so much going on from now until D-Day! In the next 1o weeks we have my Birthday, we are planing a trip to Cali, have our 5 Year Anniversary, have a Lake Powell trip (which I will opt out of), my Sister-in-law is getting married, Eric's Birthday and the 4th of July! Pretty much every weekend has something for the next 10 weeks!! Yikes! So if I don't blog much during that time you know why ;)