I just
LOVE
Halloween! It is such a fun holiday for me. I love the pumpkins, the treats, and the costumes! This year we went with a Toy Story theme. This is Tatum's favorite movie right now and everything must be
BUZZ LIGHTYEAR
...including his costume! Here is Tatum in his signature pouty face...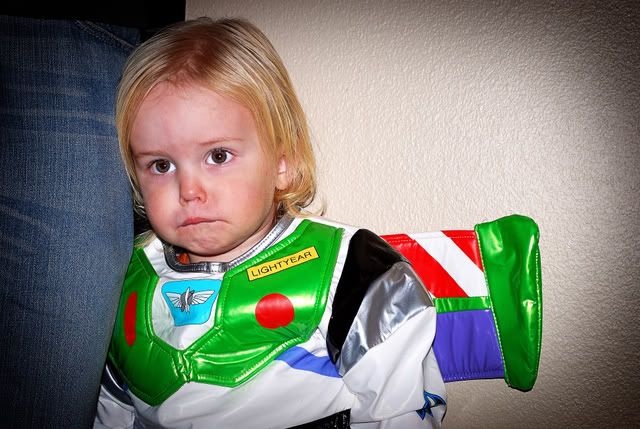 Tatum told Eric to be Woody and for me to be Jesse. I thought Bo-Peep was a little better suited. So here we are in all our glory. The one family shot I had didn't turn out and Eric refused to put his costume back on so this is the best we have...
This year we debated whether or not to do a Halloween party. We got a few inquiries from our old neighbors and decided to give it a go. We had a great turn out with close to 40 people including children, which was
WAY
more than we expected! We had everything homemade...taco soup, root beer, cookies, cupcakes and doughnuts! It was a blast. Thanks everyone for coming, we really enjoyed seeing everyone again!
Everyday I seriously love my neighborhood more and more. Halloween is so much fun here. Everyone is out trick-or-treating and my friend a few houses down does a haunted house in her garage, Tatum went through and didn't even flinch! Another neighbor gives out hot chocolate and homemade doughnuts...it was so good, we kept going back for seconds and thirds:) Tatum was able to go through our whole ward and totally scored on the candy! We came home to check out his loot and he was dancing just looking at it. Ever since he has been asking to go knock doors and get doughnuts and candy!