Ok here we go...Trey's story. I know this will be long, but this is the closest thing to a journal that I have...so sorry!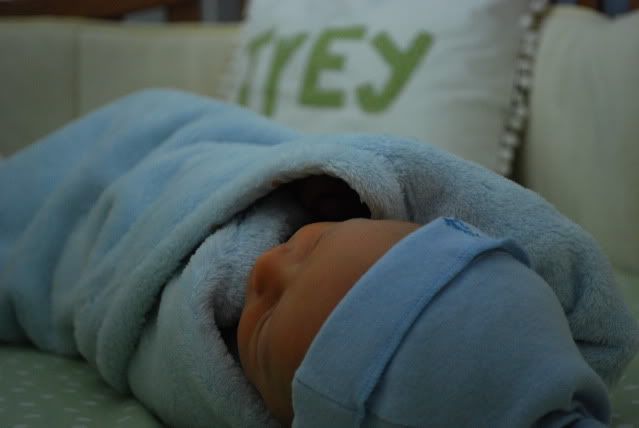 ..SOME BACKGROUND INFO..

I guess it all started about a week before Trey was born. At my 38 week Doctors appointment I found out I was dilated to a 3 and was 80% effaced. She pretty much told me that I could have this baby any day now. I totally got my hopes up and went home and cleaned my house from top to bottom, packed my bags and installed the carseat! For the next 3 days I had contractions off and on and really thought that he was coming a few times. The Monday before he was born I started to have contractions in the middle of the night. I held off waking Eric up until I thought this was it. After 3 hours of strong contractions 5 min apart, I decided we should go in. At 4 am we arrived at the hospital where they told me I was a 4 and 90% effaced. I thought for sure he was coming today. Well I was wrong! After 2 hours of observation with no progress, they sent me home with 2 percocet.

The rest of the week was probably the most uncomfortable of my life! I had so much abdominal pain and contractions that I could hardly walk. Friday came around and I had another Doctors appointment. She said that I was still a 4 and 90% effaced. I wanted to cry! I was seriously hoping that she would tell me that I needed to head over to the hospital to have this baby. Well instead she stripped my membranes and told me she would for sure be seeing me this weekend! After my appointment I went home and was in so much pain that all I could do was lay in bed. Eric took Tatum for the day so that I could rest, which was perfect because I couldn't take care of myself and Tatum that day.
That same day I started to have contractions and bore through them all day long. I did not want to make the mistake of going to hospital just to be sent home again. So I waited and waited and finally could not bare through the pain anymore by myself. At 11pm that night we went in to the hospital. They checked me and I had not progressed all week. I was so nervous they were going to send me home. I begged the nurse not to turn me away while I was in this much pain.
My Doctor came in and saw that I had a fever and checked my stomach and noticed it was very sensitive. She instantly thought I had an infection. She was very worried that it would be passed on to the baby and wanted to get the baby out as soon as possible. (I guess this type of infection could possibly cause cerebral palsy, so it was pretty serious). I wanted to do everything possible to avoid a C-Section. She said they could break my water and see if I progress and if not they would do a C-Section. I was fine with that, it meant I was having a baby today! She then told me that I needed to hold off getting an epidural as long as possible so that my labor would progress faster. They wanted me to get to a 6 before giving me the epidural.
So they admit me and get me all set up and break my water. Almost instantly my contractions peaked and became so intense that I could hardly bare it. They checked me 5 min later and I went from a 4 to a 5 1/2. They called the anesthesiologist and within 15 min I had my epidural. All week long I have never felt so good! I became so relaxed that I was then able to sleep for a few hours. After a shift change and some antibiotics (for the"infection") I was ready to push. Once I started pushing my contractions slowed down to 1 every 10 min. So in between pushes we all were just hanging out waiting. I pushed for about an hour and at 8:30am Trey was born 8 days early!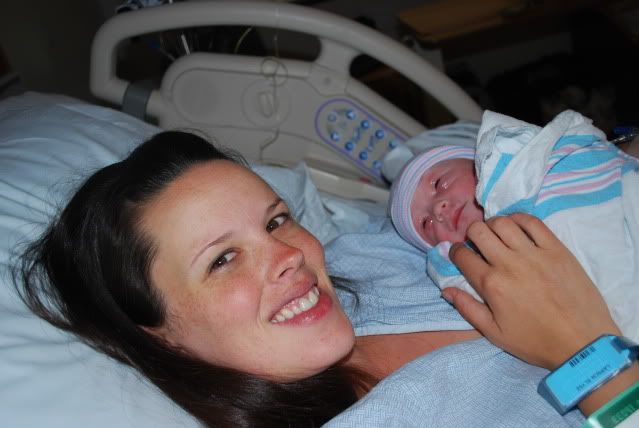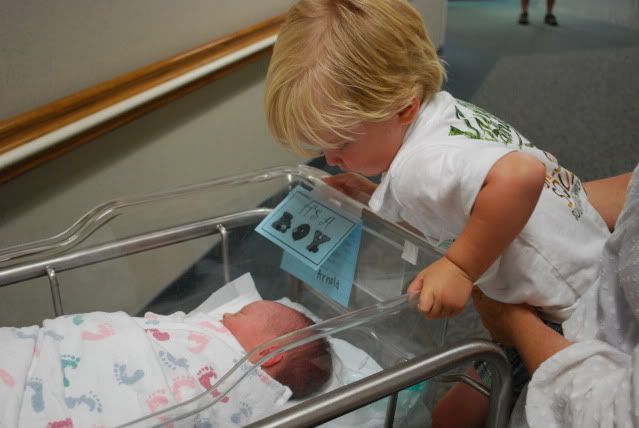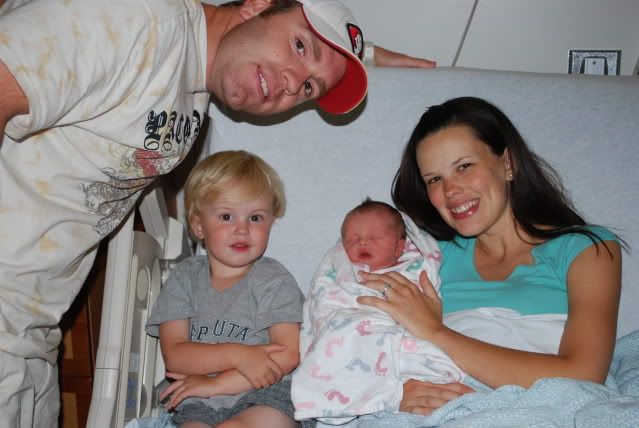 Everything went so perfectly. There was no infection at all and Trey was prefect in every way. This whole experience was so different from Tatum's but I really wouldn't change any part of it. Tatum's C-Section was easy but doesn't even compare to a V-Bac. Within a day or 2 I felt almost back to normal. I loved the anticipation of labor and the empowerment that came from pushing Trey out. I really am so blessed to have wonderful children and easy recoveries.
..THE FIRST WEEK..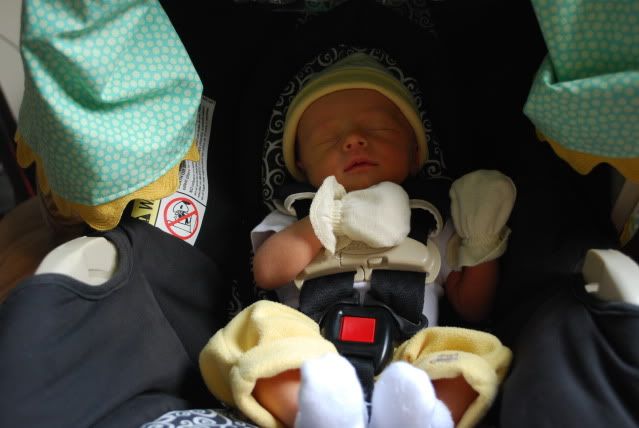 Well I survived my first week. The adjustment hasn't been bad at all. Tatum really has reacted so well to Trey. I think the fact that he is older and was well prepared helped out a lot. He loves this baby! Everyday he wants to hold him and showers him with kisses. Its so sweet.
Trey has been a very good baby. I was so nervous to have a newborn again, but he really has made it easy on me. We had a few rough nights at first but I have been able to get him on a schedule and he has done so much better. I just love this kid and could not be more happy with my little family of 4!