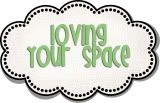 Alright, I am starting something new!
Its called loving your space...my new decor blog.
I love showing the latest projects that we have done around the house and getting feedback,
but I was getting tired of them "cluttering" up my blog.
So the solution was to start my own blog where I could showcase all of the fun things that I do around here. I doubt it will turn into anything big, but I am still so excited.
So you can click on the link above or on the button to the side of my blog to get there!
Enjoy!!