A while back one of my neighbors asked me if we would be interested in hosting a Japanese exchange student in August. Eric and I talked about it and decided it would be a great experience for our family. I was a bit reserved about it at first considering I would be the one home all day with him. We scheduled a meeting with one of the coordinators to discuss our concerns and figured out it wouldn't be bad at all. They come and pick the students up during the day and take them to do different activities around Utah and bring them back in time for dinner. Then they take them to Moab for a few days and all together they would only be here for 10 days. So we signed up! The only conflict was our scheduled pick up from the airport was exactly when we would be driving home from our Teton trip. So we stopped on our way home and picked him up. I hurried in the car and cleaned everyone up with wipes and changed our clothes so that we didn't look like a bunch of gross hillbillies!
Here we are straight from camping with our student Yusuke!
We had a lot of fun with him and tried to do as much as we could to make his trip to America unforgettable. We fed him all the classic American foods and he said that Hamburgers were his favorite. We took him to the lake with some friends where he got to experience his first time on a boat and on waverunners.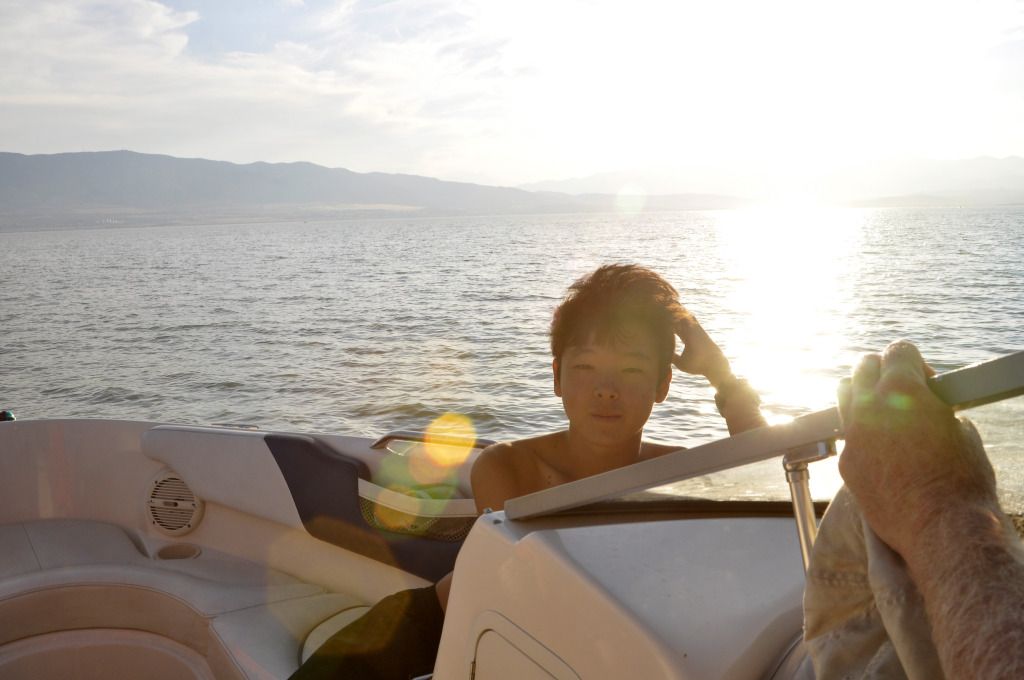 BJ took him on the wave runner and I wish so bad that I had it on video. It was so fun to see the giant grin on his face within seconds of taking off!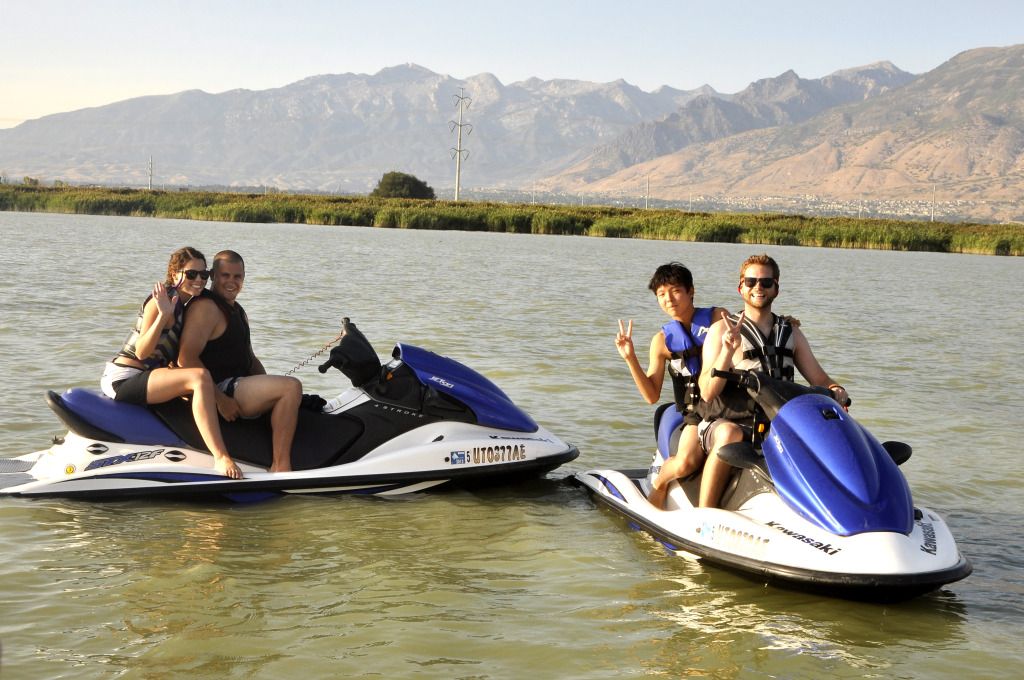 He always does the "peace" sign :)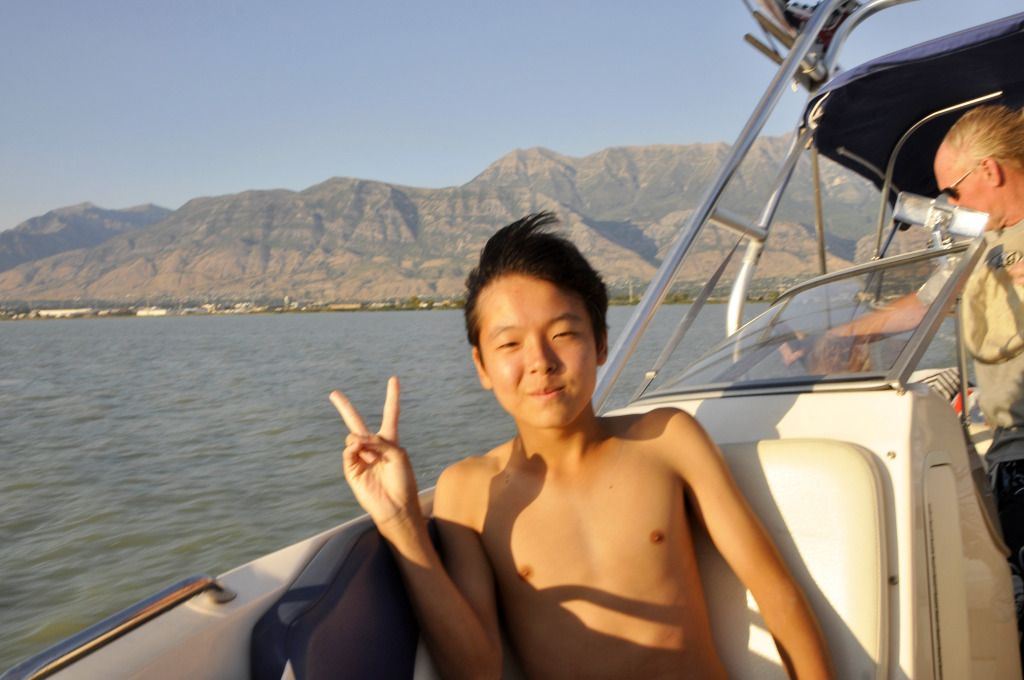 Here is the whole group of students at the Salt Lake Temple. I thought it was cool that on Sunday they took them up there to see temple square and hear the Tabernacle Choir sing. Oh and on that day we had them drop Yusuke off at our church because Eric and I had to speak! That added a bit of stress to our crazy week!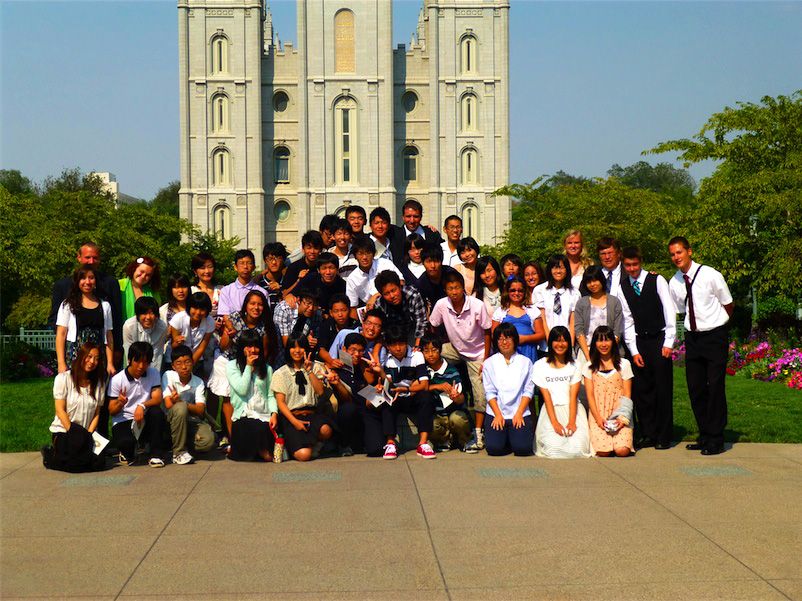 Tatum and Yusuke bonded really quick. Yusuke said that he always wished he had a younger Brother and that is why he loved Tatum so much. They did everything together and Tatum would hold his hand anytime we went anywhere. Here are some bad pictures from our last night together.
I am so glad we did this and it will be something that our family will never forget. I love that Tatum has learned about Yusuke's culture and made such a bond so quick with him. I love that he has learned that people can look and talk different but it doesn't mean we can't be friends with them. I love that Tatum and Yusuke will be pen pals and write letters to each other for many years to come.