We are finally ready to add on to our little family. It took us a while to get to this point, but we now feel totally ready to be a family of 4. I took Eric and Tatum to my first real Doctors apt and got to hear the heartbeat and I had to beg my Doc for an ultrasound. I guess they only do 12 week ultrasounds if they can't find the heartbeat. It was so cute to see Tatum react to the little guy (or gal) kicking and squirming around on that screen. She printed off 8 pictures and Tatum counted them and asked
"you have 8 babies Mom?"
. Thank goodness there is only one in there! This little one will be due on July 11th which makes me 14 weeks along. Pregnancy really treats me well. With Tatum I never felt sick and had a perfect pregnancy. This time it is similar but my 1st trimester I was constantly nauseous. Never threw up, but still nauseous. Now I am out of my 1st trimester I feel great and am totally ready for this undertaking! Here is the proof...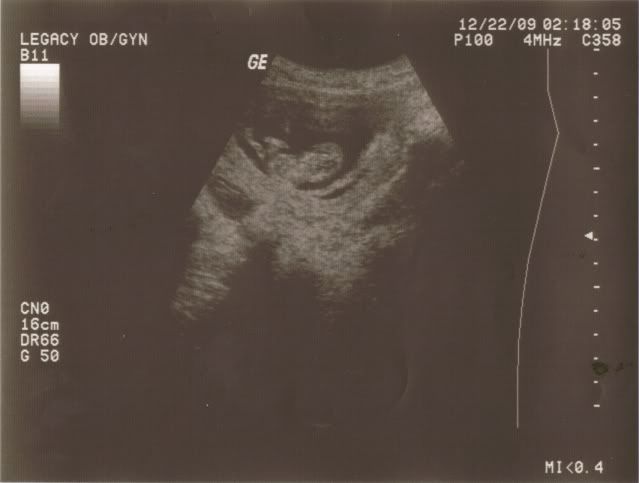 We were so shocked to see it moving around so much. These two pics were taken literally seconds after each other. See it kicking? So cute!
I am so sorry to all of those that I blatantly lied to. I just wasn't ready to divulge my BIG secret yet.