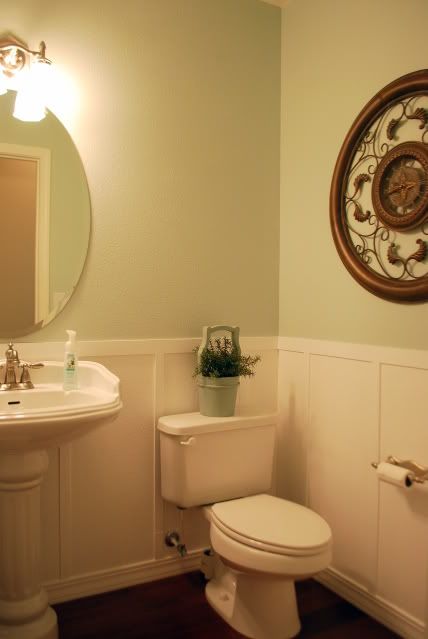 I love that when we moved into our house it was a
COMPLETE BLANK CANVAS
. Every wall was white and with a little effort we repainted almost EVERY wall.
We never got to the bathrooms in the house and our main floor half bath was driving me
nuts!
Its the main bathroom that everyone uses and the white walls had to go!
The other day I decided enough was enough and made a trip down to Lowe's.
I got all of the supplies: paint, wood, caulk etc. and went to work.
I am pretty proud of myself.
It took me almost a FULL day to finish
(minus touch ups)
and I just love how it turned out. Eric was pretty impressed himself seeing as I did all of the woodwork myself!
I decided to try my hand at board and batten.
This really was an easy project but by no means is it PERFECT. I went the cheap route and got lattice wood and just nailed them straight to the wall.
Here you will see that I ran out of wood and didn't want to buy another 8 foot section. Its pretty well hidden but still I'm no professional!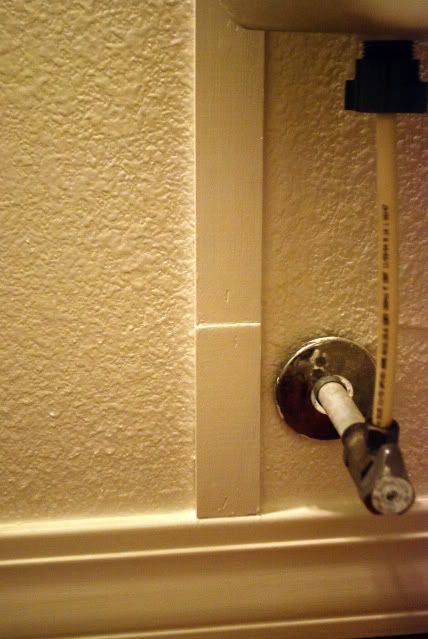 This was my inspiration. I got it as a bunco prize and it was the EXACT color I wanted for the bathroom (
thanks Marianne!
).
These pictures don't show the color very well but it really is more of a robin egg blue than a green. My computer is getting fixed right now so I don't have photoshop or a before picture!
But in a matter of days I will be running with the latest and greatest version of photoshop...
woot woot :)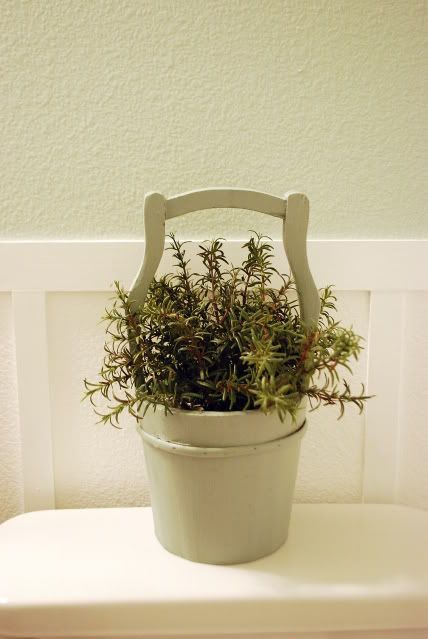 Now that this project is done its time to move on to the office, family room, loft, master bath...
...and the list goes on and on!!